iso_nailpolish
iso_nailpolish
iso_nailpolish
A new nail polish community solely devoted to iso (in search of) queries. If there's a nail polish you're looking for that you can't get a hold of, post at
iso_nailpolish
and ask if anyone has it for sale, or maybe they would be willing to do a cp (custom purchase) for you.


I'm looking for the following:

1 empty OPI nail polish bottle

Catrice - Genius in the bottle
L'oreal - Laquiresist Ocean
Max Factor - Fantasy Fire
Accessorize - Pink Spice
Milani - Totally Cool
Pure Ice - Heartbreaker
Sally Hansen Hard As Nails - Funky Frost
Darling Diva Polish - Ringer
Rimmel - Mania
China Glaze - Emerald Sparkle ("good" version)
Revlon - Gold Glaze
Revlon Top Speed - Wind Fall
Sally Hansen Nail Prisms – Burgundy Orchid

Shipped to Norway.
I can pay ASAP with PayPal :)
I have 100% positive feedback on ebay as pinklabel85 and at MUA as palevelvet

Thanks so much!
Hi!
HEY GUYS LONG TIME NO SEE



Click for 1600x1200





I asked my boyfriend which colour I should paint my nails and he said orange, so I got both of my orange polishes and set to work. Colours are showing much lighter due to the flash. Top coat is some cheap shit I own came in a makeup kit YEARS ago), but the Claire's polish needs it to show properly neon. This comes off more as a fun Summer look, but whatever, right?
Sorry for bad picture of nails...I don't really have any long ones left.
(
click for more/bigger/better pictures!!!
Collapse
)
For the base, I used
Barielle: Blackened Bleu
, then I sponged on
Sally Hanson HD: Spectrum
,
ORLY: Space Cadet,
brushed one full coat of
Sally Hanson: Diamonds
over everything, then added sponged bits of
Nicole by OPI: Twist of Fate
, and put on a few hexagon shaped glitters I found in
Hard Candy: Break up
. All together, it took a while to do, but was not too hard. I added
Poshe Top Coat
to smooth it all out and dry it quickly :)
x-posted to nailart
ps sorry for my messy cuticles :x
Hi! I posted my nails on tumblr and was told to post them here, too!! :) this was my first attempt at "space/galaxy nails" hope you enjoy!
This is two coats (full coverage -- nice!)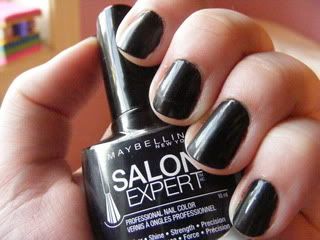 (
more after the cut -- plus some new nail polish that I bought!
Collapse
)
Can you believe it's almost October?? Hallowe'en is right around the corner!
Speaking of Hallowe'en, would anyone be interested in participating in a
Hallowe'en nail polish design contest
? I think we could have a lot of fun! (Maybe even with a real prize involved!)
I'm wearing a black nail polish this week and it's definitely a fun adventure! I filed all my nails down to a shorter length yesterday and then decided to slap on this Maybelline nail polish (which, by the way, isn't too bad! It's a bit watery, but the pigment is great and builds up really nicely!).

As always, click for larger



Two purple shades that I don't have labels on. The base was in those makeup kit-things you can buy at Shopper's and the darker one is one of my oldest polishes that I have

posted here before

. I originally wanted this to be just the base as a Dita vonTeese-esque reverse mani (hers is red and classy), but decided that the purple just wasn't good enough for it. Enter dark purple.

Also, I cleaned my edges AFTER the shots, like an idiot. Next time, I will think twice as far ahead. Also, it looks way better in person, since no one will be close enough to see allthose little flaws.

You should see my stubby little baby nail that I snapped on Friday, I made it look like it has a tip, and it's lols.
MAC Dry Martini
This was my most recent manicure. ZOMG I love this weird green/brown color. I feel like it's very on trend with the military theme going around fashion right now. It's so weird of a color that I can't stand NOT wearing it. I'm totally feeling the fall colors even though today was strangely hot where I live... oh well, technically it's not fall yet... :)
~Pinupcherrymakeup
Here is one last manicure.
Current Mood:

restless
China Glaze Mummy May I
This is from China Glaze's little Halloween mini kit. It's a really cool black base with a TON of purple/pink glitter. A pop of top coat and it was smooth sailing. I can't tell you how it removed because I ended up peeling it all off. Oops. Anyway, I got instant compliments with this one.
~Pinupcherrymakeup
So I messed up and needed to make two other posts, so here is the second separate one.
Current Mood:

hungry
OPI Manicurist of Seville
I like this kind of raspberry magenta pink shade, but I immediately started disliking it when I saw it under certain lighting. Under florescent light it looked like a dark, bruised raspberry color maybe? It just wasn't as bright and turned really dark when inside. This immediately came off as soon as I got this next color.
~Pinupcherrymakeup
I did this within the past week or so and never got around to posting it, so here it is for your viewing pleasure.
Current Mood:

content